Pilots
---
About Us
There are currently 4 authorised pilots in the Gloucester District. This number has reduced over the years from 13. The reason for this is that the number of ships has reduced. The level of trade has remained stable but being transported in much larger vessels.
Current Pilots
Carl Merry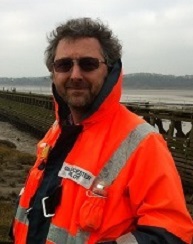 Carl was authorised in 2003. He also served 5 years piloting on the River Humber. Raised in Cornwall he ran away to sea with P&O at the age of 16 serving deep-sea in a variety of shipping including general cargo, container and troop ships. He gained his Masters in 1994 and spent three years as Chief Officer in the car carrying trade. He has held command on a number of vessels primarily in the short and middle sea trades finishing his seagoing career with Carisbrooke Shipping. When not working he enjoys messing about in the Bristol Channel on his boat and is a passionate supporter of Gloucester Rugby. He lives in Slimbridge with his two daughters.
 Rick Davies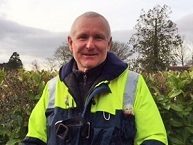 Originally Rick served on a variety of deep-sea vessel types with P&O then in the North Sea Offshore Support industry. In 1984 he gained an honours degree in Nautical Studies and worked ashore for Racal Marine as a Systems Engineer before taking up a position as Assistant Harbourmaster at the Port of Boston. There, he was mainly responsible for hydrographic surveying and Port Control before becoming authorised as a pilot in 1990. After 11 years there he moved to Fowey but in 2007, due to a down turn in trade, was forced to move to SE Wales. In 2008, whilst working there, he was fortunate to be accepted as a replacement for Ken Higgs who retired the following year. He is married with a son and a daughter. In 2015 he celebrates 25 years as a pilot.
Tim Butten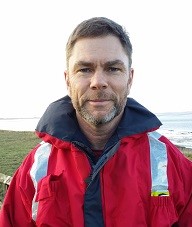 Apprenticed with BP Shipping and served on tankers ranging from 260,000t to 25,000t. When BP flagged out in the mid 1980s served with various tanker & gas companies including Bibby & Mobil as well as BP. For a bit of extra cash did a trip coasting for 3 weeks in 1989  and  never went back deep sea. The next 16 years were spent on the near continent with ARC and Hanson and first command was gained in 1997.  In 2005 joined a small sand dredger with Cemex working the ports in the  Bristol Channel where remained until joining Gloucester Pilots in 2013.
Though born in Middlesex has lived in West Wales since 1969. Married with two teenage children. We all play   lawn bowls and wife & daughter at international level. I follow Welsh rugby and in particular  rugby 7s. Other interests include walking, camping family holidays and reading British Military History.
Brendan Richardson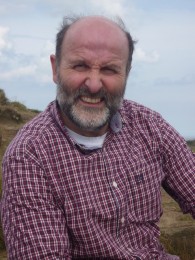 Since the mid 1980's Brendan has enjoyed a varied seagoing career on coastal bulk carriers, offshore anchor handling ships , a period in the Royal Fleet Auxiliary and the command of two small bulk carriers and a super yacht. Previously a Tees and Hartlepool Pilot for 20 years, he transferred to Gloucester Pilots in the early part of 2017, where he continues to enjoy his career.
Brendan lives close to the River Severn with his wife Davina and has two grown up children.
Retired Pilots
The following table is 'work in progress' and will be padded out as and when information becomes available. If you know something about any of the following then we would be pleased to hear from you at sharpnesspilots@gmail.com
| | | | |
| --- | --- | --- | --- |
| PILOTS | FROM | TO | COMMENTS |
| Mark Griffey | | 1969 | His grandson is Paul Fryer who was a pilot here in 1976. |
| John Williams | | 1969 | Replaced by George Woollard. |
| Ron Morgan | 1941 | 1983 | Came from tankers and was a young pilot. Was a long time pilot and had a reputation for running the other pilots! |
| Les Spiers | 1958 | 1988 | |
| Arthur Tytherleigh | 1961 | 1988 | Served time at sea then worked on the tugs before becoming a pilot. |
| Doug Griffey | 1962 | 1988 | Working on Harkers tankers and had to be persuaded to join the pilotage service. It is thought that he is Mark Griffey's nephew. |
| Peter Tippet | 1966 | 1996 | Served an apprenticeship on the Eastern Station at Portishead. |
| John Morgan | 1971 | | This was the second time he was a Gloucester Pilot. He left sometime in the 1950s after he grounded the Ramasees II on Lydney Sands |
| Robert Case | 1964 | 1992 | Ex Gloucester apprentice. |
| Brian Richards | 1969 | 1995 | Was a Bristol Pilot apprentice. |
| Keith Hadley | 1969 | 3-05 | A Gloucester apprentice, served time with Strick Line. Introduced George Woollard |
| George Woollard | 1971 | 11-98 | Grandfather was Maintenance Manager at Sharpness and father was pilot. Went to work on tankers running between Swansea and Worcester. Went to sea with Strick Line, came back to work on tugs then ashore to work at Oldbury power station. Approached by Keith and asked to join Gloucester Pilots. |
| Ken Higgs | 1972 | 6-09 | Ken was a Gloucester apprentice 1965-1970, then served with the Hungry Goose Line (Trinder Anderson) until he was licenced the day after his 23rd  birthday in 1972. Piloting has been in his family for well over 130 years. His Grandmother told him that Sharpness was short of Pilots those years ago and so her family moved up from South Wales. |
| John Hopkins | 1973 | 1985 | He was a sand dredger man who originally came from Bideford. He served his time with Reardon Smith. He campaigned for a review of the pay structure in view of the increase in size of ships. When he left he returned to Bideford as Harbourmaster/Pilot. |
| Paul Fryer | 1976 | 1988 | Gloucester apprentice then to sea with Bowrings. When trade reduced he relocated to Jeddah and latterly to Portsmouth. He has now retired from piloting. |
| Clive Wilton | 1979 | 1991 | Ex SE Wales apprentice, became Cardiff Pilot. |
| Dave Bainbridge | 1979 | 1991 | Became Cardiff Pilot. |
| Dave Moore | 9-98 | 12-02 | Came from Bowker and Kings and then was a Dock Pilot |
|  Bill Payne |  1999 |  06-17 |  Bill completed his apprenticeship with the Bristol Pilotage Authority in 1975. He then sailed deep sea as a junior officer for five years, much of this time on a round the world general cargo service before entering the coastal trade. Here he sailed as master in both coastal tankers and marine aggregates dredgers, finally completing his seagoing career with two summer seasons as master of the coastal passenger vessel Balmoral. During this time Bill gained pilot exemption certificates for the ports of Milford Haven, Swansea, Barry, Cardiff, Newport, River Avon, Southampton, the Medway, London, and Harwich. Bill has a grown up family with two grand children and lives with his partner Suzette in Wanswell, a short walk from the port of Sharpness. Hobbies include renovating his old house, and exercising an active Cocker Spaniel. Prior to becoming a pilot in 1999 Bill was a dinghy sailor on the river for over 20 years. |